Skip to Content
Chiropractic Care for Lower Back Pain
Back pain is a common issue for people of all ages and backgrounds. Some cases are so severe that they cause people to miss work. According to the American Chiropractic Association, back pain accounts for more than 264 million lost workdays each year. At Tracy Chiropractic, we provide a wide range of back pain treatments and alternative medical techniques to help curb this issue and provide healing and relief to our patients in the Tracy, CA area.
Conditions That Lead to Back Pain
Although your back pain may sometimes seem unexplainable, several conditions can lead to this issue.
Arthritis
Spinal arthritis can cause the space around your spinal cord to become constricted, leading to a condition known as spinal stenosis.
Bulging or Ruptured Disks
The disks in your back serve as a cushion between the vertebrae in your spine. When these disks rupture, they can put pressure on your nerves.
Muscle Strain
Muscle strain can be caused by everything from repeated heavy lifting to sudden awkward movements.
Osteoporosis
When your bones become brittle, compression fractures can occur in your spine.
Scoliosis
Scoliosis is a condition that causes an irregular curve in your spine.
Sciatica
Pressure on your sciatic nerve causes pain that can radiate from your lower back to your buttocks and down your leg.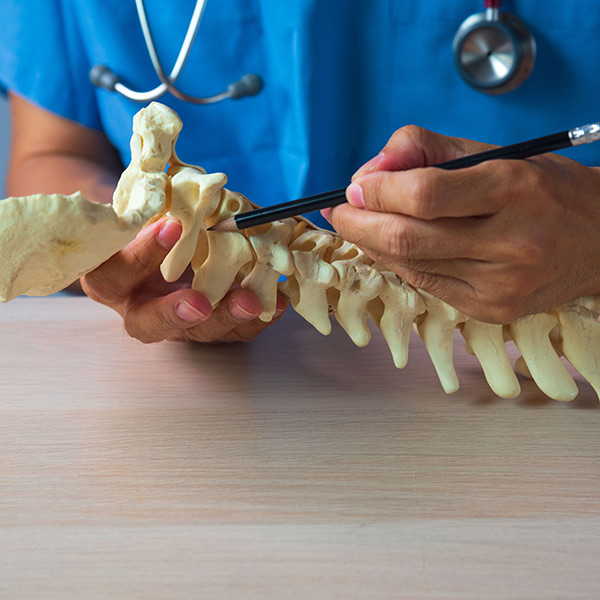 Chiropractic Back Pain Treatment Options
We provide personalized treatment options for those who have been involved in car accidents and work accidents, as well as those who have suffered injuries from sports or are in need of pain management services. We also treat patients who were born with degenerative spinal diseases.
Some of our treatment options include:
Stretching techniques
Electrical stimulation
Range of motion exercises
Deep tissue massages
Rehabilitative therapy
Chiropractic adjustment
Spinal elongation therapy
We utilize the Kinesio® taping method to help sports players who are experiencing soreness and limited mobility. For those who suffer from muscle inflammation and discomfort, our doctors may employ the myofascial release technique.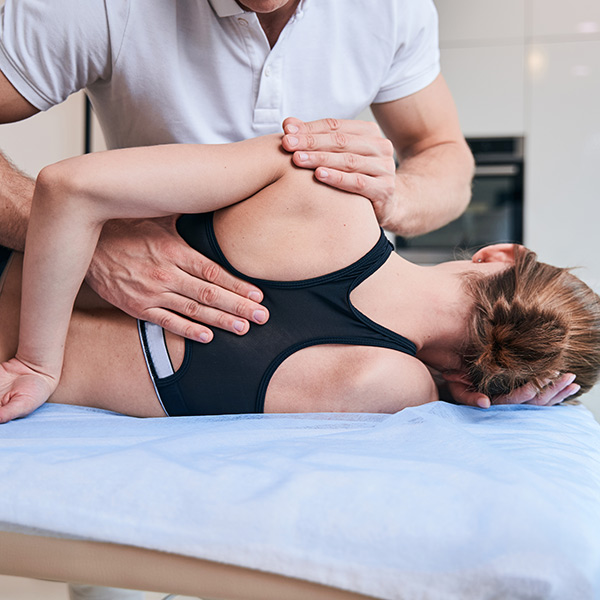 Your Trusted Neck Pain Chiropractor
Your neck is vital to your health in a number of ways, so it's important to seek assistance when it doesn't feel right. If you're experiencing neck pain, it's time to visit Tracy Chiropractic to find the source and treat it before it can get worse. Our doctors are well-versed in neck treatments and offer a variety of approaches to help you recover and get back to living.
Doctors Brown and Dell'Aringa have treated the residents of San Joaquin County for years, and their necks are no exception. Patients receive a full roster of care, from examination and diagnosis to treatment plans that encourage thorough recovery. Tracy Chiropractic works with local surgeons, orthopedic experts, and other professionals to ensure you receive the attention your neck needs as you heal. No matter what's causing your issues, we're here to help you through it with the utmost professionalism.
Causes of Neck Pain
The neck is susceptible to various kinds of damage, from accidents and attacks to musculoskeletal disorders. While it's normal to experience some pain or stiffness on occasion, it's vital to pay special attention to it if you notice persistent discomfort. Causes can include muscle tension or sprains, a heart attack, bone diseases, vertebral disk dislocation, and other conditions. The neck is especially vulnerable to accidents, such as car or sports injuries, and should be checked early by a doctor if you've been involved in one.
How to Treat Neck Pain
Fortunately, there are also several ways to treat neck problems. Treatment typically begins with a physical examination of the neck and may lead to blood tests, X-rays, CT scans, or MRI readings. From there, your doctor will determine whether you need chiropractic attention and work out a plan of care with you, which can include medication and one or more types of therapy. These include physical therapy, temporary neck immobilization, and transcutaneous electrical nerve stimulation. Some cases may benefit from surgery, but with Tracy Chiropractic, you can expect to engage in non-invasive strategies for pain management. Customized exercise regimens, physiotherapy, and deep tissue massages are just a few of the options we employ to promote proper healing and healthy readjustments, helping you protect your neck in the future.
Let Us Help You
Tracy Chiropractic provides comprehensive care for neck pain and more, and regardless of what brings you to the clinic, we'll help you achieve a more comfortable life removed from pain. We accept most major health care insurance companies and would be happy to discuss your concerns. Contact us today to set up an appointment in our Tracy, CA office.
Reviews
Today was my first visit. The office personnel were very friendly and extremely helpful. The doctor is awesome, and I strongly recommend this office! Thank you EVERYONE!!! I still hurt like h-e- double hockey sticks, but that comes with the territory, being the fact that I haven't been to a chiropractor in many years. See y'all tomorrow morning!
After the first adjustment Dr. Brown did on my lower back, I felt so good that I immediately stopped looking into surgical correction. I have a lot going on with my lower back and neck, and was getting desperate. This place has a lot to do with why my back is feeling so much better. The administrative staff is professional and nice, and the gals back in the treatment room are personable, helpful, and good at their job. Win one for team Tracy Chiro!
It was my first visit, and I feel so much better. I would 1000% recommend. Kudos to the Doc & Team
Amazing staff, very understanding when I had to reschedule or cancel my appointments because I commuted. Excellent service. Believe it when the ad says "Best chiropractor in Tracy" it's true.
Been struggling with lower back pain a while... within two weeks back is feeling wonderful. Staff is very friendly. Would recommend in a flash.
The staff provides great service. Help to diagnose persistent pain that I had with my shoulder. I would definitely recommend them.
I had severe back pain and have been going for two months here. People are nice and friendly, but even better, I can move again!!
Quality Chiropractic Care Providers